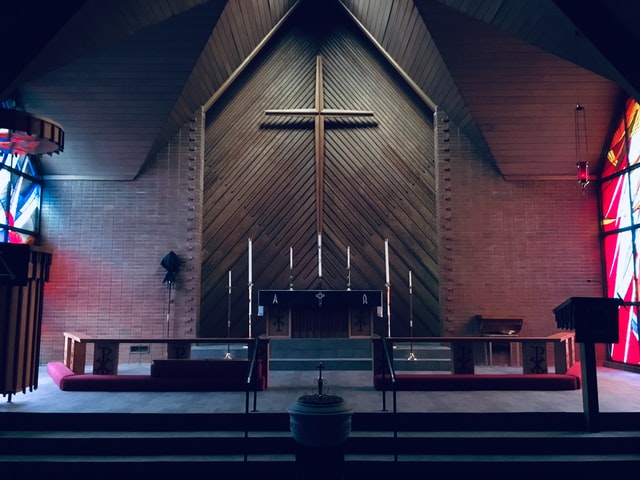 One of the hardest realities of church life in North America is that worshippers are also customers or consumers—it's as if the image of church as "company store," used in one of the earlier Caravan blogs, has come to full development. Just as hard as it is for church not to be a "denomination," more difficult still is for modern North American church-goers to become disciples of Jesus instead of customers of the church business. Church leaders fear the impact of Covid-19. They fear, among other matters, people have become content to worship at home via whatever streaming platform and that they will not return even after the new normal is here (if that is really how the future will unfold). When the people come back, it is hoped so will their resources, their time, and their finances—this is not necessarily driven by greed, but rather churches mobilizing to do their ministry. Thus, many churches are bracing for a less populous and less opulent future, at least in the pews.
During the religious boom of the 1950s, churches in North America were building new structures right and left. Perhaps we have such a time of revival yet coming, but the signs are not promising. This earlier time of prosperity equated Christian success with new buildings, robust programs, and full sanctuaries. Yet, business people, often the lay leaders in these churches, increasingly became more concerned about the bottom line. That nagging focus has remained with us—and woe to the church leader who cannot make sense of a spreadsheet. In too many instances, budget constrains vision rather than vision setting the limits of the budget. My point is not that we should ignore economic realities—we should live within our means—but that the focus on the cows on a thousand hills misses the creator of the cows on those very hills.
Perhaps my deepest realization that church was big business was when a woman, raised in my religious tradition which has always been skeptical of people claiming miraculous healing powers, invited herself, politely, of course, to stay with my family for a few days so she could attend a well-known faith healer's conference. We lived in New Orleans at the time. She had life-threatening, short-time-to-live cancer. The doctors had given her no hope. She was desperate and while I had my doubts about the outcome that would come from seeing this faith healer,  understood where she was and if all it took was a trip to our city to attend this revival to find healing, I might have done the same thing. We came to love her and wanted the best for her.
Consequently, given the need of my new friend, I gave more attention to this big event that promised to do good in the city where I served. Several things struck me as wrong. First, my friend had to buy a ticket to get into this revival which was staged at a significant arena in our city. So, think about it. My friend at the end of her resources, came up with the funds, arranged travel, and paid to attend this conference in search of an elusive miracle. The Gospel I know does not sound like this. Second, the event was held on the campus of a university within five miles of the poorest public housing in the city. I'm certain that had Jesus come to our city, he would have gone there. But not this famous healing evangelist or any member of his team. Again, this did not sound or feel like Jesus. Finally, this particular faith healer has been exposed many times for his opulent lifestyle. You see, church can be big business for independent preachers like this evangelist.
The apostolic model of ministry of the first century had a much different feel to it. When Paul confronted the charlatans of his day, he rattled off his resume in this way:
I have worked much harder, been in prison more frequently, been flogged more severely, and been exposed to death again and again. Five times I received from the Jews the forty lashes minus one. Three times I was beaten with rods, once I was pelted with stones, three times I was shipwrecked, I spent a night and a day in the open sea, I have been constantly on the move. I have been in danger from rivers, in danger from bandits, in danger from my fellow Jews, in danger from Gentiles; in danger in the city, in danger in the country, in danger at sea; and in danger from false believers. I have labored and toiled and have often gone without sleep; I have known hunger and thirst and have often gone without food; I have been cold and naked. Besides everything else, I face daily the pressure of my concern for all the churches (2 Corinthians 11:23–28).
People becoming lucratively rich from sharing the good news of Jesus does not square with the witness of the New Testament.
In the unregulated marketplace of the religious business, insufficient accountability exists and this blurs acceptable ethical boundaries. The vast number of moral improprieties are proof enough of this fact. Some observers have noticed that with the rise of key megachurches functioning as distribution centers for religious goods and services, we now have the "Walmart-ilization" of Evangelical Christianity. In this economy, if a church is successful (growing in numbers), the way the marketing agents (ministers) did it is packaged and then marketed to other churches and their leaders. How many of us bought our goods from a 'Willow Creek' or 'Saddleback'? In a culture that has been groomed to think of everything in economic terms, those who want to do it correctly, for the sake of Christ and for the good of the world, find it hard to stay out of the church business. In fact, the standard economic matrices, such as, butts (in seats), budgets, and buildings, remained deeply lodged in our thinking about church success.
Almost twenty years ago now, Michael Budde and Robert Brimlow wrote Christianity Incorporated: How Big Business is Buying the Church (Grand Rapids: Baker, 2002). In this book they report how the North American church has made peace with market capitalism. To critique market capitalism appears to be a heresy among a majority of Evangelicals. It's as if the church and the marketplace have been swapping each other's clothing. The marketplace utilizes religion and religious symbol; the church seeks to be "professional," "efficient and effective," etc. Ministry, however, is messy, slow, and gracious. Thus, when the church puts on a business suit, we lose our distinct image of looking like Jesus; we lose the mission that only the church can do. The world's clothes do not flatter us nor show off our best features. Is it possible for the church to find her garments again?