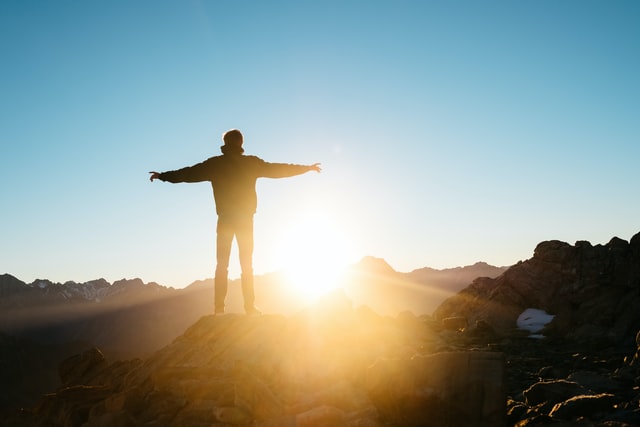 Set Apart for Worshipful Ministry
The notion of being "set apart" is an elusive, perhaps even odd concept for modern North American Christians who spend so much energy trying to be a part of the "in crowd," or rather, trying to be the "in crowd" in our society and culture, with the power to set everyone else's agenda, whether they believe in Jesus or not. Being "set apart" signifies there might be things we do not do so we can be free to do the things we were meant to do.
This is exactly how Paul understands his calling to preach the Gospel of God (Rom 1:1; 15:16). We might excuse ourselves from having Paul as a mentor or exemplar, because, after all, he was an apostle and we have not been given such a unique call (or have we?). I think it is fair to say that Paul believes his experience in Christ should be the common experience among those whom God has called.
In as much as "apostle" at its root means "one sent," we all share in this "sent-ness" for the Gospel—if we claim loyalty (faith in) to Jesus. So, then, how does Paul understand "being set apart," which is only one word in the Greek? What does it mean to us? And what does it mean when we think of how it might inform our understanding of worship?
The word has an interesting place in the NT. It can refer to the angel's separating the wicked from the righteous at the end of time (Matt 13:49), the separating of the sheep from the goats (Matt 25:32), the way persecutors might exclude disciples of Jesus (Luke 6:22).
There is also the way in which the word is used for the call to ministry. In Acts 13:2, the Holy Spirit sets apart Barnabas and Saul for a special mission or, later, Paul separated the disciples in Acts 19:9 for special training. However, the word is also used in a negative sense, like when Peter separated himself from Gentiles as pro-"works-of-the-law" people came from Antioch (Gal 2:12). Thus, one can, to be sure, be set apart for unrighteous purposes.
Paul used the word to speak of God's call on his life in Rom 1:1 and Gal 1:15. Here, in these texts, "being set apart" takes on the notion of being reserved for a special purpose. Paul, who was at home in the Greek translation of the OT, would have known the word in various contexts. For example, the people of Israel were to remain separate from Mt. Sinai (Ex 19:12, 23), priests do a lot of separating in isolating people with various diseases and conditions (Lev 13:4–5, 11, 21, 26, 31, 33, 50, 54), but more to the point, clean and unclean animals were to be separated to keep the holy from the unholy (e.g., Lev 20:25–26). This latter example shows how being set apart is about being holy.
In the book of Joshua, another example of "being set apart" involved the priestly cities designated for the exclusive use of the descendants of Aaron (Josh. 21:13–18, 21–32). These examples are sufficient for us to see that Paul would have had a rich understanding of being set apart and what that might mean for God's call on his life, and, no doubt, by extension, our calling.
When I was growing up, my grandmother protected her special china plates in the special china cabinet. I knew these dishes were special because they were never to be used for ordinary meals. Only on very special occasions were those dishes to be used. Everyone, and I mean everyone, knew that those dishes had been set apart for my grandmother's exclusive use. Funny thing, I don't remember ever getting to use those dishes. So, those dishes must have been very special, indeed.
My illustration captures what holy basically means in the Bible. When something is set apart for God's exclusive use, it was considered holy. For example, God's people are called "saints" (the Greek here is "holy") throughout the New Testament. We often miss this notion of "holiness" in God's people because translations now favour translating "saints" with the more idiomatic "God's people." Perhaps we could compromise and translate every occurrence where the older translations would have used "saints," as "God's holy people." Works for me. Ultimately, then, our whole worship to God is "holy" (Rom 12:1) and has a "set apart" quality to it. Remember, God's Spirit is Holy, that is why the spirit is known as the Holy Spirit (Rom. 5:5; 8:27; 9:1; 14:17; 15:13, 16).
"So, what might this notion of being set apart for God's exclusive use have to say to us today? I would like to draw out a couple of implications."
First, we have been called for God's exclusive use for God's purposes. In the great baptismal text in Romans 6, Paul discusses that through baptism we died to sin; we should not, therefore, ever offer any part of ourselves as an "instrument of wickedness" but "rather offer yourselves to God as those who have been brought from death to life; and offer every part of yourselves to him as an instrument of righteousness" (Rom 6:13–14). The language of worship and separation is hard to miss. But we do not often meditate on how our baptism was the way we offered ourselves to God's purposes. We usually go straight to Rom 12:1–3. We will return to this language of offering ourselves to God in a later blog.
Second, any act of worship is for God. If we are set apart for God's purposes, then all that we do is potentially worship of God, to God, and for God. This, I think, is a direct challenge to our utilitarian use of worship services as a means of attracting more people. In fact, the earliest records we have from the early church give a different spin on why we gather as God's people, namely, God's formation of his people into the image of his son. For example, in the NT, Christian gatherings were to be intelligible events that would build up the people of God (1 Cor 14:3, 5, 12, 26). They were not for the outsider to test drive the church; should a wandering outsider happen upon the Christian assembly, the gathering needed to exhibit the holiness of God in such a manner that an accidental visitor would marvel that God was truly among his people (1 Cor 14:24–25). In the time after the NT, it was common for non-Christians in a gathering to be uninvited to the part of the gathering that involved the eucharist or communion. Yet, the church grew rapidly.
Origen, a trainer of people interested in learning the faith and a preacher, preached a series of sermons on Psalms about AD 250. In one of his homilies or sermons on Psalm 67, he spoke of the kinds of music the world offered compared to the kind of music the church should sing when gathered. Making an elaborate allegory on how the church is God's instrument for playing God's tunes, Origen called on believers to "transform the style of your singing and playing a stringed instrument to something more reverent, more discreet, and more helpful" than the world sings (Joseph W. Trigg, tr., Origen: Homilies on the Psalms, 161). Christians, Origen proposed, were to sing differently. He preached, "if I'm going to sing to the Lord, I must know the tunes that gratify the Lord so that, when the Lord is the audience, I may sing to God" (Trigg, tr., Origen, 164). I think this ancient preacher struck the right chord. To be "set apart" means to seek to please the Lord in all that we do because, after all, it is the Lord who is the audience for our worship.