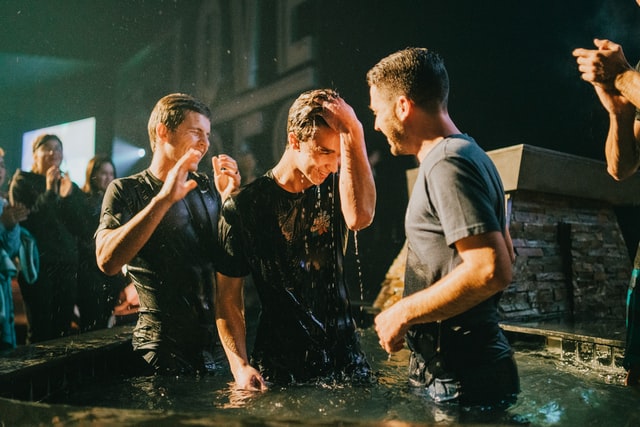 Baptism as Sacrificial Worship
When I took a really close look at baptism in Romans 6, I was surprised to discover how Paul sees our baptism as a decisive moment of worship. I knew the language of mystical union was there. You know, that stuff about being united with Christ in his death and so also united with him in his resurrection (Rom 6:3–7). The language is worth pondering. Paul says we have been united (deeply implanted) in Jesus's death and also in his resurrection, that is, we have been associated with Jesus in a related experience. So, our baptism somehow participates in the death, burial, and resurrection of Jesus and also prepares us for the day Jesus will raise us from the dead. More so, this rhythm of death, burial, and resurrection became the life song of discipleship.
It has been impressed upon me when I was young that baptism was a re-enactment of the death, burial, and resurrection of Christ. Of course, I was taught this to make sure that I understood that baptism was by immersion and by no other means; Paul actually has something much deeper in mind. As Jesus has died to sin for all, he now lives to God and so should we. Thus, as marked by our baptism, sin should not live again in us (6:11–12). At this point, Paul teaches,
"Do not offer any part of yourself to sin as an instrument of wickedness, but rather offer yourselves to God as those who have been brought from death to life; and offer every part of yourself to him as an instrument of righteousness" (6:13).
And there is that language of worship again. As God has offered Jesus as a sacrifice, we now are invited to offer ourselves to God, that is, offer every part of ourselves to God through the way we live out righteousness. This text is getting us ready for Paul's more comprehensive discussion of giving ourselves as living sacrifices in Rom 12:1–3.
The Greek word for offering or presenting Paul uses here has a fairly broad range of meaning, from to being present to presenting an offering. This allows Paul room to play. He can speak of presenting the members of our bodies for righteous ends or he can use the same word to signify presenting ourselves for the good of another. So, we are not to present our bodies for evil purposes but neither are we to present or give ourselves in obedience to another unless we understand that to do so is equivalent to being the other's slave (6:16). For Paul, you have two options; give yourself over to sin—which brings death; or, give yourself to obedience to God—which leads to righteousness.
But thanks be to God that, though you used to be slaves to sin, you have come to obey from your heart the pattern of teaching that has now claimed your allegiance. You have been set free from sin and have become slaves to righteousness" (6:17–18).
Paul picks up the language of "offering" one more time in this passage. You once offered yourself "as slaves to impurity and ever-increasing wickedness," but now we should offer ourselves "as slaves to righteousness which results in holiness."
Paul is known to mix his metaphors. He certainly does in this passage. He moves from the analogy of moving from death to life through the resurrections of Jesus—which become the rhythm of our own baptism and life—to the analogy of slavery—we belong to the one we serve. However, along the way, Paul speaks of how we offer ourselves to obedience, righteousness, and, ultimately, to God and God's purposes. It's a crazy ride but each mile is met with ways for us to understanding our worship to and before God.
We come to the end of Paul's exploration of baptism with a lingering question: Who will you serve; or, worded differently, who will you worship? The one you serve is your master. The one you worship is your master.