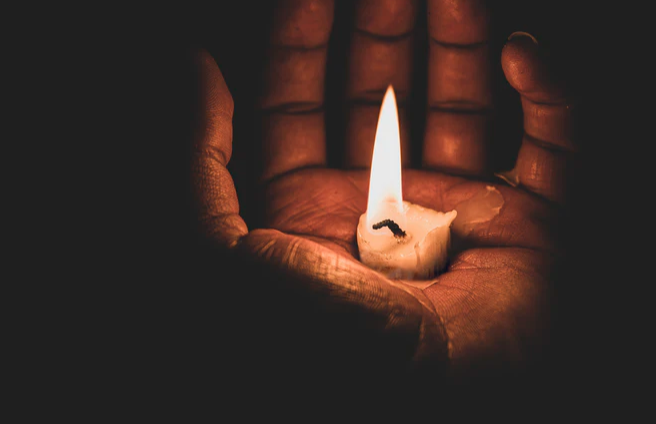 This past Sunday, July 24, 2021, our president, who serves as an elder of the Bow Valley Christian Church, offered the following lament as a means of helping people work through the contradictions of our time. We post it here in the hopes that it can help others.
Our Heavenly Father and Creator,
We come before you today because we know that you love your children, all of your children! And as your children, we cry out for those who cannot cry out because, like Rachel's children of long ago, they are no more. We cry out for those who refuse to be comforted because their little ones were taken away (Matt 2:18).
We pray also for the powerful, who often do not know they are the powerful. Forgive us, dear Creator, for those times in which we did not use our power for those who lacked power. Forgive us for not seeing we benefit from wrongs done in the past, and while we did not personally participate in oppression, we perpetuate the wrong by not speaking up, by not offering a helping hand, and not being willing to hear the stories of others. Help us, dear Lord, to see what you can see and empower us to do what is right, now.
Today, as your children, we seek solely to participate in your kingdom; we seek to live up to the vows we have made with you in our baptism. Today, we gather in worship to honour you as our only sovereign, and we acclaim that you, and not the governments of the world, rule the world. We acknow­ledge that the boundaries of your kingdom transcend, and even ignore, manmade boundaries by forming us into the church, comprised of every nation, tribe, people, and language (Rev. 7:9).
This patriotic holiday weekend is fraught with many unholy contradictions. We bring these to you because you are not the God of confusion. Only you can set this right. Our human nation is a nation built on land that rightfully belongs to others. The graves of children memorialize the need to control, to be strong, to be powerful. God forgive us and show us the path of healing and reconciliation.
Father, the government is supposed to be your minister. So, did you do this? The contradictions of our times are too great for us to bear. The government, your intended minister of good, has conspired and plotted in vain. And why should we be surprised, even the kings of the earth rose up and banded together against you and your chosen one (Ps 2:2; Acts 4:25–26). Father, I lay before you the contradictions of our times.
On-again, off-again COVID restrictions.
Schools created to "kill the Indian in the child."[1]
Religious people burying children without memorial markers or, worse, removing them.
Broken Treaties that now cannot be made whole.
Slavery, supposedly outlawed, continuing to live as humans die through trafficking and sexual trading.
Government policy driven by profit, not the care and health of their people.
Broken politics, even sometimes in your church, O Lord.
People making millions of dollars in the name of providing a cure for the virus.
Incentives to sell drugs/alcohol but little funding for those helping others with addictions.
Immigrants enticed to come here and then denied resources to make it here.
Rejecting those who are different than us instead of loving them into your kingdom.
The killing of the unborn; the killing of the old worn.
Economies that drain the lives and worship due you out of families
Driving luxury cars among homeless carrying cardboard signs.
Your kingdom co-opted by the powers instead of preparing people for the world to come.
[Add your own contradictions here]
Creator, we—those committed to helping all to find and follow your Son—are the people who have committed to love you with all of hearts, souls, minds, and strength; and in that love, to love our neighbour in the same way we love ourselves. In this, we confess that we have failed.
We, instead, confess that we have been an arrogant and stiff-necked people. We have not obeyed your basic commands. Yet in all this, we do not despair because you are a forgiving God, gracious and compassionate, slow to anger, and abounding in love. Therefore, we know that you have not given up on your people, who are called by your name. You have not forsaken your church, nor those who seek fully to be your people (cf. Neh 9:16–17).
Today, Lord, teach us again to live as strangers and aliens among the kingdoms of this world. We claim that we are your inheritance. We seek to be holy as you are holy. Make us living stones, a holy priesthood, offering spiritual sacrifices that are acceptable to you. Father, you have called us to be your chosen people—let us treat others as if they are chosen, too. You have called us to be a royal priesthood—let us, as good priests, care for the needs of your sheep. You have called us to be a holy nation—let us never again choose the nations of this world over your holy kingdom. You have called us to be your special possession—let us never again belong to another god or power. You have called us out of the darkness to declare your praises (cf. 1 Pet 1:1, 4, 15, 2:4–5, 9–10).
Creator, today, this day, give us the power, the will, the stamina to do the good—even if everyone around us is doing the bad. Father, we need your help to live in this world of contradictions. Help us live good lives so others may glorify you on the day when you visit us again. May those who are not yet your people become your people (1 Pet 2:9–12).
We eagerly, longingly reach for your mercy as we pray in the Name of the Father, Son, and Holy Spirit. Amen.
[1] This phrase has been wrongly attributed to Duncan Campbell Scott, who oversaw the operation of the residential schools. The phrase belongs to an American military officer Richard H. Pratt (see http://historymatters.gmu.edu/d/4929/). Scott did, however say, "I want to get rid of the Indian problem. I do not think as a matter of fact, that the country ought to continuously protect a class of people who are able to stand alone… Our objective is to continue until there is not a single Indian in Canada that has not been absorbed into the body politic and there is no Indian question, and no Indian Department, that is the whole object of this Bill" (National Archives of Canada, Record Group 10, vol. 6810, file 470-2-3, vol. 7, 55 (L-3) and 63 (N-3), as cited online at https://www.facinghistory.org/stolen-lives-indigenous-peoples-canada-and-indian-residential-schools/historical-background/until-there-not-single-indian-canada.
For those looking to learn more about the indigenous peoples of Canada, I recommend the free online course offered by the University of Alberta called Indigenous Canada. For more information go to https://www.coursera.org/learn/indigenous-canada.