Important Information
Enrollment for this course is currently closed. Please check the courses that are available for enrollment at the bottom of this page. Contact us to help you get started!
why this course?
Gain the tools for a closer reading of the New Testament
audit for $375
Auditing means you are not required to complete assignments and the professor will not be reviewing your work. We strongly recommend full participation for maximum value.
LEARNING OUTCOMES
At the completion of this course, the students should be able to: 
Recognize all words that occur more than 200 times in the Greek New Testament;
Decline every type of noun used in the Greek New Testament;
Read the Letter of 1 John with a few lexical tools;
Utilize Bible software (Accordance, Logos, or BibleWorks) to work through other texts
Course Description
Greek 1 is an introductory study of Koine Greek (the common Greek dialect from approximately 200 BC to 600 AD) of the New Testament. This course emphasizes (1) vocabulary building and (2) declination of nouns and adjectives and (3) concludes with an introduction to verbs (in preparation for G312 Introductory Greek II).
William D. Mounce. Basics of Biblical Greek Grammar. 3d ed. Grand Rapids: Zondervan, 2009.
Important Notice!
Additional fees could apply for international students and full-time students...in which case the Registrar will let you know. Click here for tuition details.
Course Features
Lectures

17

Quizzes

0

Duration

College Semester

Skill level

Level 300

Language

English

Students

0

Certificate

No

Assessments

Yes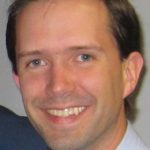 I am currently completing his PhD in Theological Studies at Trinity Evangelical Divinity School, majoring in Old Testament Hebrew, Literature, and Exegesis. My research areas are in hermeneutics and Biblical theology. I had previously taught courses at The King's University College and Nipawin Bible College and pastored for two years at Airdrie Alliance Church. I love teaching the Bible and seeing God's people growing up into Christ.
You May Like
You May Like