Important Information
Enrollment for this course is currently closed. Please check the courses that are available for enrollment at the bottom of this page. Contact us to help you get started!
why this course?
Because it's amazing!
- Bob Osborne
audit for $375
Auditing means you are not required to complete assignments and the professor will not be reviewing your work. We strongly recommend full participation for maximum value.
LEARNING OUTCOMES
Following the completion of this course, students will:
Identify the everyday habits and patterns that shape and form our desires, images of God and understanding of ourselves.
Explore and practice various spiritual practices in order to broaden and deepen our experience of Love.
Practice a holistic approach to Christian spiritual formation that involves soul, mind, and body; a love for both God and his creation.
Craft and begin to implement a Rule of Life that provides a framework for ongoing spiritual formation.
Be introduced to important spiritual writers in the Christian tradition.
Required Texts
Foster, Richard & James Bryan Smith. Devotional Classics. Rev. ed. San Francisco: HarperCollins, 2005.
Foster, Richard J. Streams of Living Water. New York: Harper One, 2001.
Smith, James K.A. You Are What You Love: The Spiritual Power of Habit. Grand Rapids: Brazos Press, 2016.
Hudson, Trevor and Jerry Haas. The Cycle of Grace: Living in Sacred Balance, Nashville: Upper Room Books, 2012.
Course Description
This course explores a practical approach to the Christian vocation of being conformed to the image of Christ. Attention is given to fostering the Spirit's work in our lives through both inward and outward spiritual practices. An introduction to classical and contemporary spiritual writers of the Christian tradition is also offered.
Important Notice!
Additional fees could apply for international students in which case the Registrar will let you know. Click here for tuition details.
Course Features
Lectures

5

Quizzes

0

Duration

6 Weeks Modular

Skill level

Level 400

Language

English

Students

0

Certificate

No

Assessments

Yes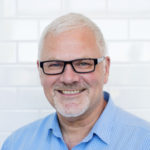 I have served for over 38 years as a pastor, church planter and Bible school instructor. I now spend my time providing spiritual direction, as well as teaching in a variety of contexts.
You May Like
You May Like
Enrollment opening soon
Coming soon
Enrollment opening soon
Coming soon