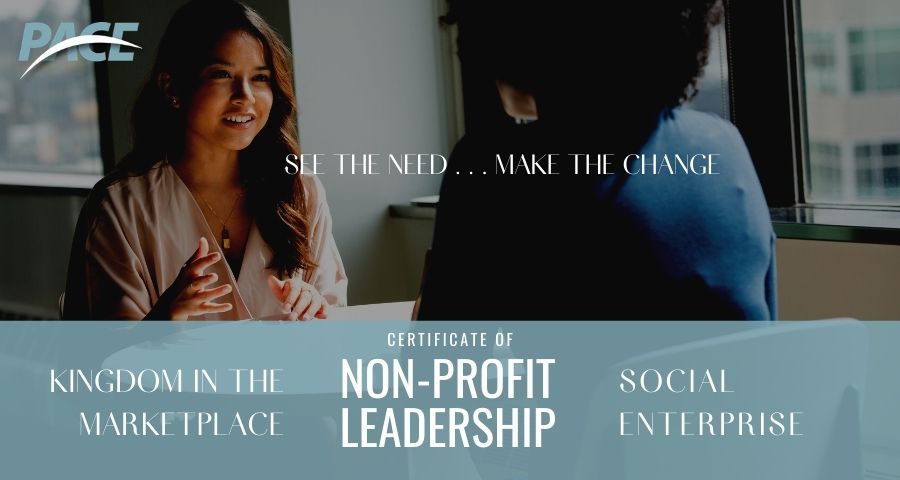 Non-Profit Leadership is designed to provide adult learners with a biblical foundation and non-profit leadership skills.
Kingdom
in the Marketplace
Social
Enterprise
Change
Good
Learners will Demonstrate
Growing competency in understanding, interpreting, applying and communicating the biblical message
Understanding and appreciation of the work of God and the Church throughout history and contemporary culture
Integration of biblical, theological and historical truths into their non-profit leadership
Faithfulness in stewarding life as a Christian servant-leader

*This program qualifies for Canada and Alberta Student Loans*
PROFESSIONAL STUDIES (27)
P3325 The Effective Organization (3)
P4335 Strategic Leadership (3)
"I've gained...a biblical lens to make sense of our changing world, and a strengthened relationship with God."
Dorothy
Diploma in Leadership & Ministry (PACE), Children's Pastor
"I loved Jesus before. But I fell in love with him in this process."
Dawn
B.A. Counselling & Ministry (PACE)
"PACE classes have had a profound effect on my spiritual journey...[they have] set me on the path to be all that God wants me to be."
Joseph
B.A. Counseling & Ministry (PACE), Senior Pastor